The radio is one of the most popular forms of entertainment in the world. It's always on somewhere, and it provides a steady stream of music that can't be matched by any other form of audio entertainment. If you want to listen to the radio on your phone then you need to know what steps you need to take. We'll provide all issues on listening radio on the phone in this blockpost!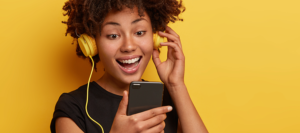 What is an internet radio?
What is an internet radio? There are many forms of the radio, including the standard kind that broadcasts through airwaves and has a frequency you can tune in to. The other major form of radio is online or internet-based radio. The intrenet (streaming) radio works by sending out data over the Internet which connects your device (usually a computer) with individual servers hosting thousands of different stations playing particular genres. These types of radios also often have great features like allowing users to save their favourite songs for later listening on any other device they own. For more information on the intrenet radio you may consult our recent blogpost What is an internet radio?
Can you listen to the radio on your phone?
Modern smartphones are multi-purpose devices that allows us to do far more than just make phone calls. You can use your smartphone for tuning streaming FM radio as well. In order to listen to the radio on your phone, you will need:
an internet connection or data plan with your cellular provider,
a streaming app. There are many apps available for both Apple and Android devices such as Tunein Radio, Spotify Music, Slacker Radio & more!
How can you listen to internet radio on iphone?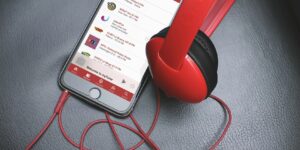 The official Apple website advises to take the following steps.
Request Siri. Activate Siri, and then say something like "Play Wild 94.9"
Search for a station. Tap Search, enter a station in the search field, and then tap a result to play the station. You can search for stations by name, call sign, frequency and alias.
Select a station on the "Radio" tab. Tap "Radio", scroll up, and then select a station under "Local Radio Stations" under "Foreign Radio Stations".
Note. You don't need an Apple Music subscription to listen to broadband radio. At the same time, some broadcast radios and stations are not available in all countries or regions.
How can you listen to internet radio on Android phone?
You can listen to the radio on your phone by using a number of apps. We'll list two that we like and explain how they work.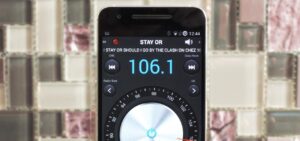 One way to get the radio experience you want is through apps, such as TuneIn Radio or iHeartRadio — both free services available for Android devices. These allow you to choose from thousands of stations around the world, playing different genres of music 24/24 hours a day with little effort required for setup.
To access these types of app-based streaming audio programs you need:
Wi-Fi connectivity or cellular data,
an account with one or more providers who offer these kinds of applications in their libraries.
Can you listen to the radio offline on the phone?
The answer for iOS is yes. Most mobile phones these days have a built-in FM/AM receiver which means you can tune in to your favourite stations anytime, anywhere! You'll usually need an antenna of some kind (unless the model comes with one already), and it's also worth noting that reception will vary depending on where you are geographically.
How to listen to internet radio on Nokia phone?
You can listen to the internet radio using Nokia phones 2, 3, 5 or 7. For Nokia 7.2, the Nokia official webcite provides the following info.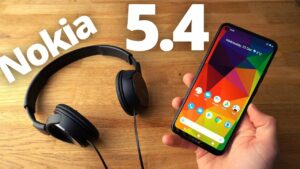 You will need to connect a compatible headset to the phone then the headset will act as an antenna. After you have connected the headset, tap FM Radio. You can search, switch and save radio stations, just slide the channel frequency row left or right and tap the icons.
Happy listening!
Listening to the internet radio on your phone is not too complicated. All you have to do is download an app that streams live stations, and then open it up in the background of whatever else you're doing! Whether you want a break from social media or just need some music for working out, listening to the radio will be able to provide what you need without any fuss at all. Do you listen to the radio when using your phone? Why or why not? Let us know in the comments section below!